" READING, AIM, STROKE, TOUCH, VISUAL"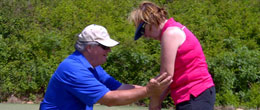 BASIC FUNDAMENTALS LESSON
Poor technique is due in part to a poor setup. Establishing a balanced setup position, along with a balanced grip, consistent arm radius, and a consistent putter path in the backswing, will determine where you will hit the ball on the face. Poor contact spot can be traced to poor balance and a looping stroke.  
In the basic fundamentals lesson. you will learn sound principles in set up, and stroke techniques – helping you create and maintain a consistent, repeatable putting stroke.
* Create a set up position to promote an excellent stroke
* Develop a personalized pre-shot routine for you to take to the golf course
* Ideal for mid-high handicap golfers
One Hour Program
Adults $130
Junior $110
Let's get the ball rolling today! 561-699-2616 for lower scores!
Book Now. South Florida's #1 Putting and Short Game Coach